Harold Smith Cultural Series
Author Jeannette Walls to be Featured as Part of Harold Smith Cultural Series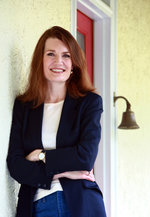 The Butler Foundation is proud to bring best-selling author Jeannette Walls to the Hubbard Welcome Center on the El Dorado campus on Monday, October 22 at 7:00 p.m.
Drawing from her compelling memoir, The Glass Castle, which has been adapted into a major motion picture, Walls shares anecdotes from her life, demonstrating that we all have more in common than we think and that our flaws can be our greatest assets. With a powerful message of confronting your past and facing your fears that resonates with audiences everywhere, her story of triumph makes audiences walk away with a positive attitude toward the "demons" in their lives.
Walls' appearance is made possible by the Harold Smith Cultural Series.
The Harold Smith Cultural Series was established following the death of Harold Smith in 1988. It has been responsible for bringing the following speakers to the college.
2016 - Fabien Cousteau, grandson of legendary explorer Jacques Cousteau
2014 - Michael Uslan, originator and executive producer of all Batman movies
2012 - Warren Brown, founder and owner of CakeLove Bakery
2008 - Alan Mulally, president and CEO of Ford Motor Company
2002 - Barbara Bush, former first lady and presidential mother
Mr. Smith attended El Dorado High School and El Dorado Junior College before attending college at Northwestern University in 1930. While in Chicago, he discovered an access to certain events that had not been available in El Dorado.
Never married, Smith left nearly his entire estate to charitable organizations and Northwestern. He felt it would be nice "to give local people the opportunity to hear speakers they would not otherwise hear." The Harold Smith Cultural Series was established to bring celebrated speakers to Butler Community College so Butler County area residents could attend at no charge.